EXKOP® System
Space-saving, bidirectional isolation.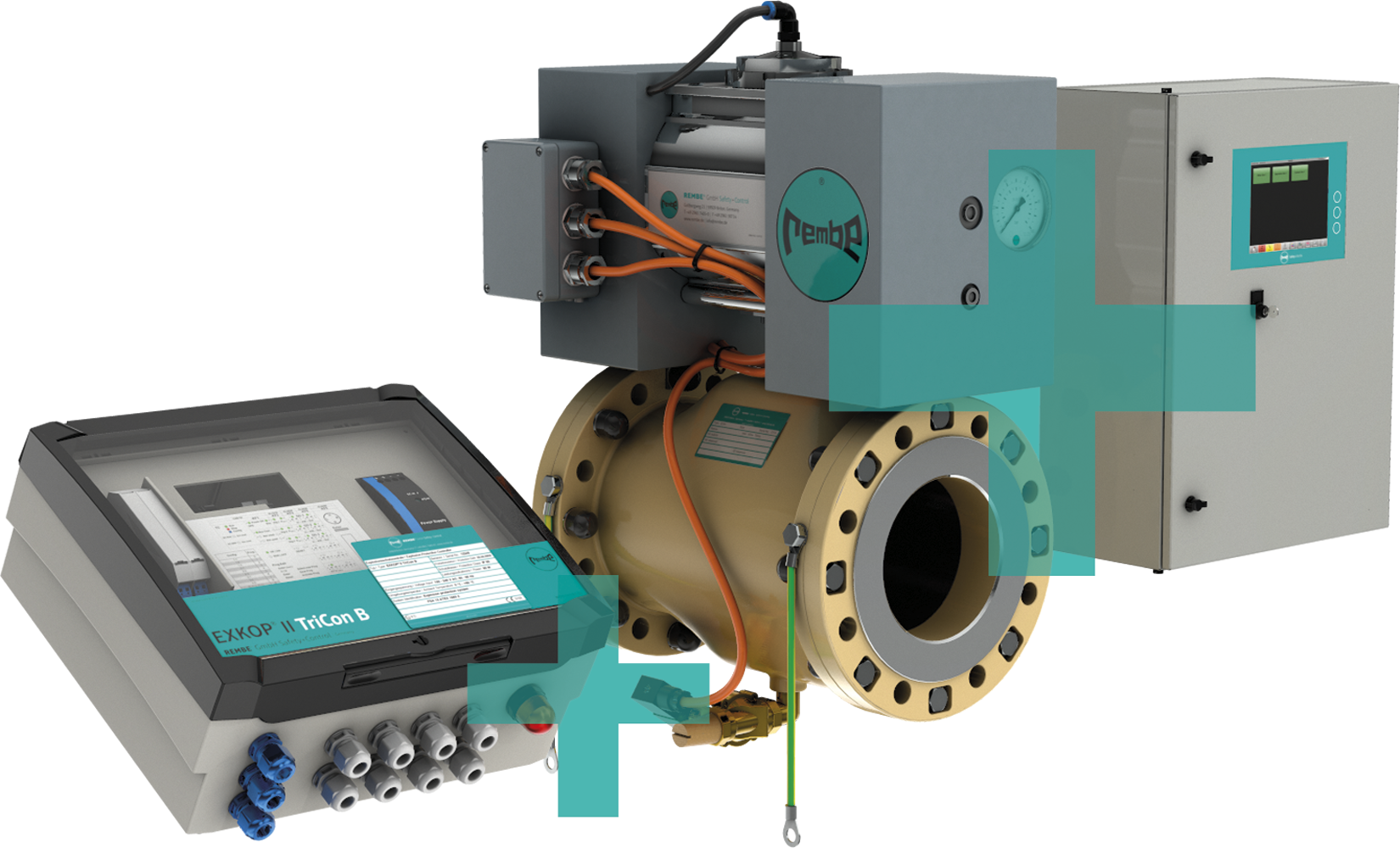 This system isolates plant components in both directions and comprises a self-monitoring EXKOP® controller with data storage and one or several quench valves.
Application
EXKOP® systems are suitable for filling lines, aspiration lines and pipes, pneumatic conveyor lines and air intake openings. As well as operating as a decoupling system for dust-bearing plants, the EXKOP® system can also be used as a spark arrester or overpressure limiter.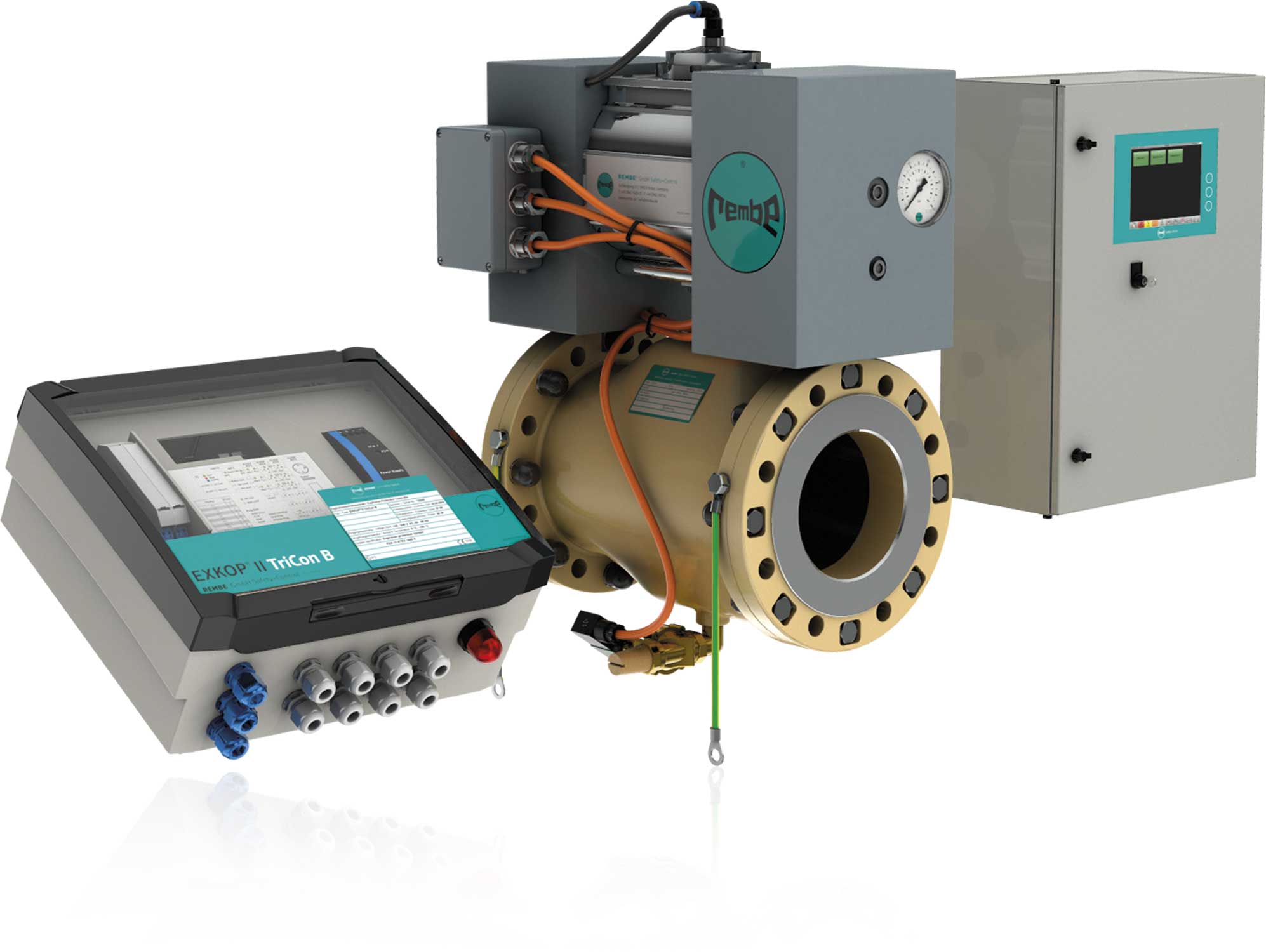 EXKOP® II TriCon B
Compact central unit for QV II quench valves in fail-safe design.
EXKOP® Express
Control Systemor for all decoupling devices.
EXKOP® QV II
for a space-saving, bidirectional decoupling, nominal sizes up to DN 250.
Advantages
Effective protection through high-speed detection of explosion events.

Returns to operation again immediately after triggering.

Self-monitoring safety electronics with operating data storage.

Modem-compatible remote system analysis permits remote maintenance.

Instant recognition of system status in HMI.

Instant status forwarding to customer PLC (Alarm, failure, maintenance, etc.).

Processes wide range of trigger signals for easy retrofitting to existing plants.

Fail Safe mechanism automatically closes the valve if the power / compressed air fails or the valve is manipulated.

Reliable, process-optimised protection against explosions in adjacent plant components.

Avoid downtime after the mechanism is triggered.
Mechanism
In the event of an explosion, the EXKOP® controller receives a trigger signal (e.g. from the signalling unit of the Q-Rohr® or an explosion vent, from a pressure switch or spark detector) and activates the connected EXKOP® quench valves. These close within a few milliseconds and thus protect adjacent plant components. After being triggered, the quench valves can be put back in operation once again at the touch of a button.
Combinations
EXKOP® Controller
Product
up to 3 quench valves
more than 3 quench valves
configurable in- und outputs
Q-BicTM
Explosion Slide Valves
REDEX, RSV
EXKOP® II TriCon
EXKOP® Express
EXKOP® quench valves
| Product | pipe diameter up to 250 mm | pipe diameter greater than 300 mm | installation in hygienic processes |
| --- | --- | --- | --- |
| EXKOP® QV II | | | |
| EXKOP® QV III | | | |
Applications + Industries
mills and grinding plants
Certifications
Certified in
accordance with
EN 16009
EN 14797
ATEX EC type
examination certificate no. FSA 04 ATEX 1537 X
ATEX EC type
examination certificate no. FSA 15 ATEX 1659 X
The EXKOP® system is ideal in combination with explosion vents or flameless explosion venting solutions.
Your contact person
I will be happy to advise you about the most suitable Protection systems for your plant. Individually, in detail and taking all relevant parameters into ­account.
Andre Häger | Sales Executive Explosion Safety