REMBE®'S highlights at ACHEMA 2018
A graphite rupture disc that is setting new standards in terms of durability - also with regard to the application temperature. A rupture signalling device that is unbeatable in terms of process leak-tightness, as well as a combination of REMBE® rupture discs and safety valves, which is becoming increasingly popular especially in the chemical industry: these are our ACHEMA highlights. "At this year's ACHEMA trade fair booth, visitors will get closer to our products and solutions than ever before", promises Orhan Karagöz (responsible for the Pressure Relief division) and Dr.-Ing. Stefan Rüsenberg (Teamleader Technical Sales).
Michael Hüske, Sales Manager Germany, is especially looking forward to introducing the NIMU to the visitors. It's not the first non-invasive signalling device for rupture discs, but the latest and therefore state-of-the-art technology. Conventional signalling devices require cables to be mounted on the rupture disc, which must then be routed out through the rupture disc holder. This is not the case with the NIMU. Here, a signal indicator is attached to the rupture disc during the manufacturing process. The actual sensor is screwed into a blind tapping in the rupture disc holder, where it monitors the position of the signal indicator on the rupture disc. This means that the wiring only starts outside the rupture disc holder.
The system is leak-proof, and back in operation quicker
After an overpressure event, and the associated opening of the rupture disc, the outlet part of the rupture disc holder must be removed, the rupture disc replaced, and afterwards the system can be put back into operation. The days when the signalling cables also had to be routed again to the respective switching box are finally over. This allows colleagues from the electrical department to devote their attention to other tasks. Additionally: The process is absolutely leak-tight. The blind tapping in the holder replaces the tapping which is usually required. The absence of cable glands (required for the holder tappings for conventional signalling cables) means that the cable glands used cannot become porous, thus preventing an escape of the process media.
NIMU, the non-invasive signalling: Sensor in a blind tapping in the rupture disc holder, and signal indicator on the rupture disc. When the KUB® rupture disc opens, the NIMU sensor will output information to the process control unit of the system.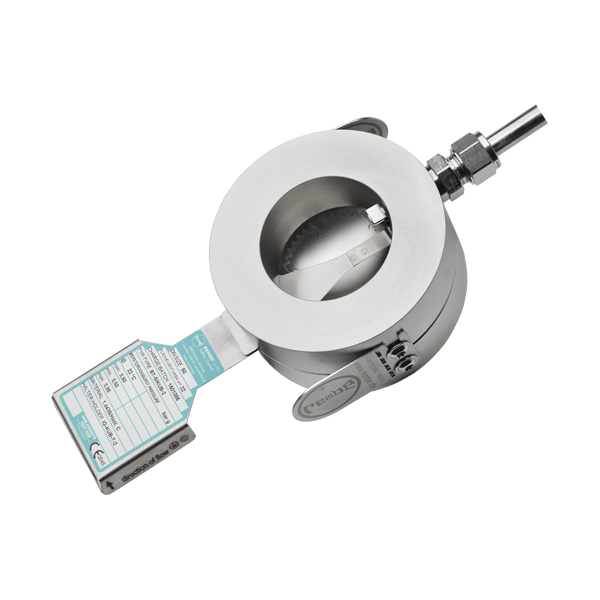 GRX® - cool and hot
If the process temperature is between -180 °C and 1,500 °C, the process involves corrosive media, and the rupture disc must already respond at a relatively low pressure, then the REMBE® graphite rupture disc GRX® is ideally suited to relieve the pressure. Thanks to a specially developed coating, the GRX® does not require polymeric sealants, and is able to withstand the aforementioned demanding process conditions, while still guaranteeing absolute leak-tightness. This in turn reduces the emissions of the system.